ACS Classrooms have New Way to Engage with Tech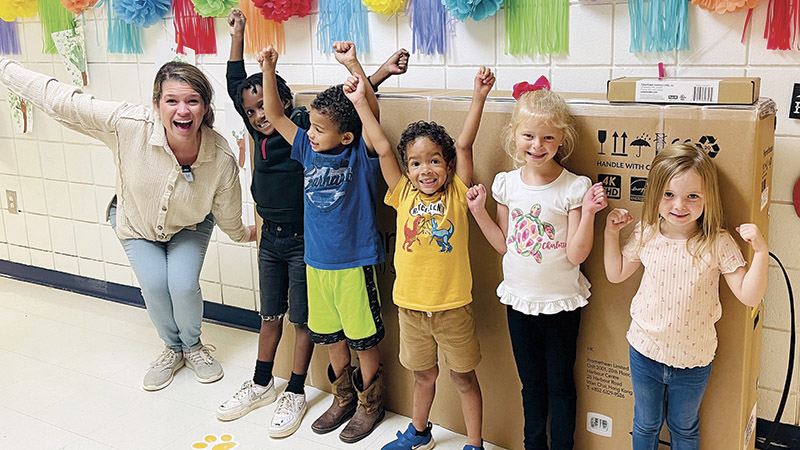 ---
Students and teachers with the Andalusia City School System have implemented new technology in classrooms designed to educate and engage.
As of last week, all core classrooms of the city school system now have Promethean boards, interactive whiteboards that help to increase student engagement and promote collaboration. Through a variety of programs, the boards allow for teachers to use interactive activities that will enhance their classroom lessons.
A total of 80 boards are now installed in every core classroom — reading, math, science, and history — from kindergarten to twelfth grade.
The boards were purchased utilizing Elementary and Secondary Emergency Relief Funds (ESSER), which are provided to schools to help close the learning gap from the pandemic. The school system invested $233,000 to complete the purchase.
ACS Educational Technology Specialist Jessica Tucker said the technology offers the best-available integrated learning experience.
"They are focused on teaching and student learning by enhancing instruction through engaging classroom activities, high-definition graphics, and quality sound," Tucker said.
Some of the features include spinners where a teacher or student can spin to select who will answer questions or can use them to form questions. They are also equipped with timers, an infinite canvas for writing, and a built-in web browser.
The school system already utilizes 1-to-1 learning, meaning there is a device for each student. Lower grades utilize iPads while the high school has MacBooks.
"These are the perfect enhancement to our 1-to-1 technology environment. Now, not only do the students have a device at their seat, but they are able to come to the front and demonstrate their knowledge on an interactive display for the class," Tucker said.
The goal, according to Tucker, is to enhance the classroom environment with engaging activities.
"For teachers, this puts tools right there at their fingertips to offer engaging instruction through layering this technology into their lessons," she said. "For students, it provides the ability to demonstrate their knowledge. They are invited to touch the board as much — or even more — than the teacher."
AHS English Language Arts teacher Erin Chavers is already seeing an impact the boards provide in her classroom.
"My experience with the Promethean board has been incredible. It has made my job so much easier being able to have everything I need at the touch of a button. My seniors absolutely love it. It gets them out of their seats and gives them opportunities to do things that they normally wouldn't be able to do; it makes them an actual part of the lesson and gives them more ownership of their work. I look forward to all of the exciting things the board will do to enhance my teaching and my students' learning."
The last of the Promethean boards were installed Thursday, Nov. 4. Prior to installation, AXI Education Solutions — the vendor that provided the boards — held in-person training for the teachers.
The purchase of the boards came after teachers tested a variety of whiteboards last year with school officials ultimately deciding to purchase the Promethean boards.
"With the installation of the Promethean boards in all three schools, our teachers have a new tool to help them improve their teaching styles and will also help our students learn by making the lessons more engaging for them," said ACS Superintendent Dr. Daniel Shakespeare.